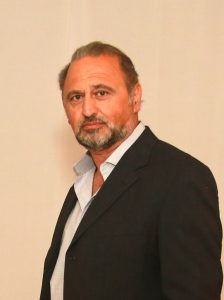 Great art invokes and stimulates your senses, seeping into your hearts and your minds. Every work of art has its own energy. Whether it lies in the smooth curves of a sculpture, or the beat and rhythm of a piece of music, or the tone and color of a painting, that energy defines the ultimate manifestation of the art.
Art is not a luxury, art is a necessity.
The work exists in a space of its own. When you peer at it through your spiritual window, you cross over that threshold and become part of that energy. Once you have made that connection, the work is no longer a two or three dimensional representation. Your personal participation in the art's effect renders it beyond the measurable constraints of time and space. Right there, the moment is suspended in time, and the energy is as great as your soul will allow.
A celebrated Los Angeles based artist, Yuroz believes that art is the most disarming, ice-breaking and rapport building communication tool to support progress of people, organizations, societies and even countries. In Yuroz's mind, the essence of art is the energy, which is more powerful than we are. It originates from a higher plane than that in which we live our daily lives. Through the art, we are able to access more potent sources of consciousness and emotion and we become more than we are.
Spanning across mediums and genres, Yuroz's work celebrates romance, edifies human emotions, promotes peace, and advocates tolerance, encouraging healing and growth while liberating love and compassion. Yuroz, a painter and architect, cuts through dimensional, geographical, and philosophical boundaries to deliver his evergreen and universal messages to anyone his art touches.
Yuroz is the only living American artist who has his work hung in the Vatican's permanent collection. "The Light of Compassion" honors the sainthood of Arcangelo Tadini, the Saint of the Working Woman, a masterpiece specially commissioned by Pope Benedict XVI's Vatican office and unveiled at a ceremony where Pope Benedict XVI blessed the painting in Botticino Sera, Italy.